UCCase Main Benefits

The Universal Control Case is a smart technology service tool used to enable remote monitoring of product performance and provide important insights to maintenance assessment. It enables remote support on standard and SOBO Svendborg Brakes brakes systems during commissioning and service. 
It can save up to 90% of the service costs associated with a service technicians travel expenses. It also helps to prevent brake systems failure which increases product uptime.
The UC Case allows for effective assistance in considerably less time that the current standard procedures allow.
You only need to have a generally trained technician on hand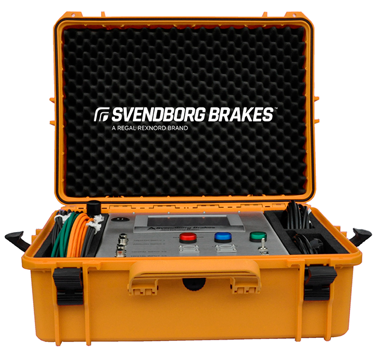 Data Collection
UCCase can also collect data, which is then stored in Cloud storage. The data can be displayed via a Web interface or dashboard.
Via the UCCase, we can diagnose brake system behavior using analytical models. This allows us to per se and give advice on which actions to take in order to prevent a malfunction of the brake system.
The data is always encrypted when transmitted to and from the cloud storage.

Easy to Operate
You don't have to be an IT expert to view and work with the data.  It is easily accessed with any internet connection either by ethernet cable or wirelessly. The UC Case is able to connect to any type of web speed device, and it is even possible to remotely upgrade the SoBo iQ systems. 
The UCCase's small size and low weight allow for easy transport.

Remote Guidance

Local Service Technician can be guided by remote expert who can intervene, directly, if necessary.

Product Sheets 


Other information & downloads
How We Got a drill Ship Moving - download
Implementing IIoT in Braking Solutions - read more
IIoT Driven Predictive Maintenance - read more
Film

Please feel free to contact us to see a demo of how to use our Universal Control Case.